Swine and Wine Weekend
Barnsley Resort Presents

Swine & Wine Weekend

November 19 & 20, 2021

It's a celebration of pork and cork with a weekend-long event featuring award-winning barbeque pitmaster Carey Bringle of Nashville's Peg Leg Porker and entertaining wine personality Heath Porter, a five star international sommelier, of Heathen Wine Tours. A welcome wine tasting, cooking demonstrations over Sea Island Forge Fire Kettles and a signature Swine & Wine Supper Club Dinner at the Manor House Ruins Pavilion create a memorable fall weekend at Barnsley Resort.

Please see below for more weekend event details.
Our Sponsors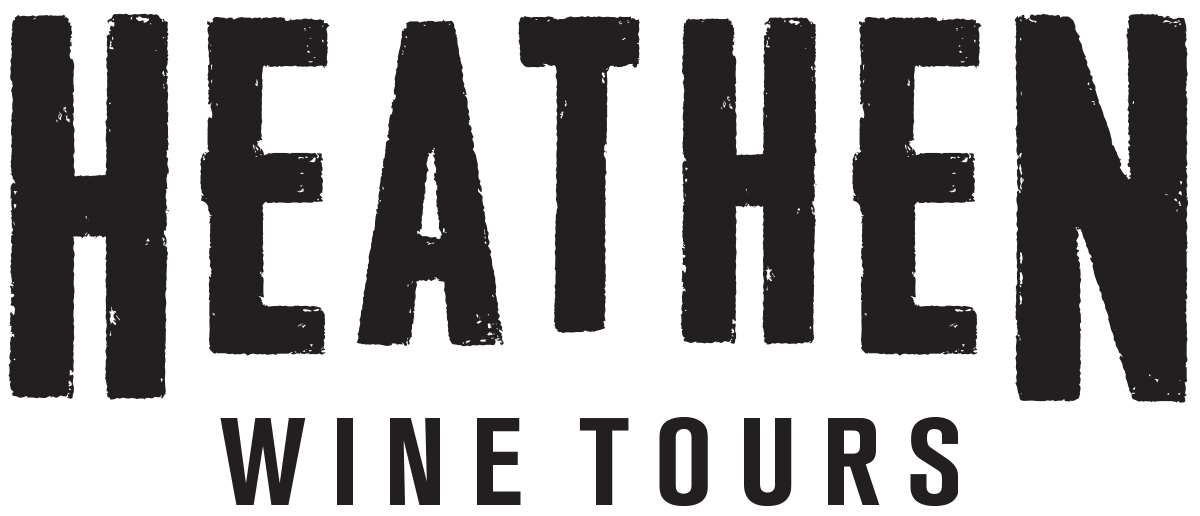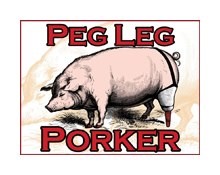 Wine Tasting featuring Heathen Wine Tours
Close -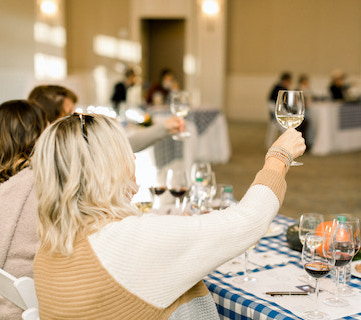 Friday, November 19, 2021:
4:00 pm
International Five Star Sommelier and entertaining personality Heath Porter of Heathen Wine Tours introduces wines from around the world in a fun, slightly educational, non-pretentious, and interactive wine tasting featuring bottles scanning the globe. We can't guarantee you'll love every wine, but we will guarantee you'll feel better when you leave than you did to start!
While the focus is on wine for this session, we're not forgetting about the pig! A cheese and charcuterie presentation has the swine covered for this event.
Saturday, November 20, 2021:
10 a.m. – 2 p.m.
Get a jump start on holiday shopping with a fall Pop Up Shop featuring Blair's Belts, S. Carter Designs, & Sea Island Forge. Drop by the Pop Up Shop for a curated selection of items during the Swine & Wine Weekend
Chef's Fire Kettle Cooking School
Open +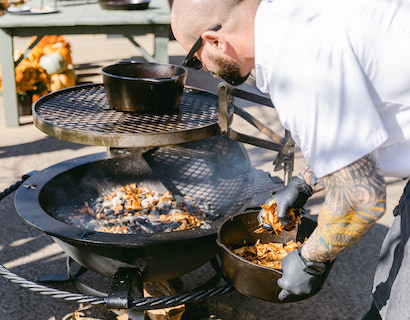 Saturday, November 20, 2021:
1:00 pm – 3:00 pm
Join us for an intimate outdoor class inspired by the open-fire cooking. Our chef prepares a favorite recipe over the open flame of a Sea Island Forge fire kettle during this outdoor class. Meanwhile, while participants enjoy a salad, the featured dish and a small dessert bite to finish. Wine is paired with the featured dish and guests receive a copy of the recipe to try at home.
Supper Club Series: Swine & Wine Barbeque
Open +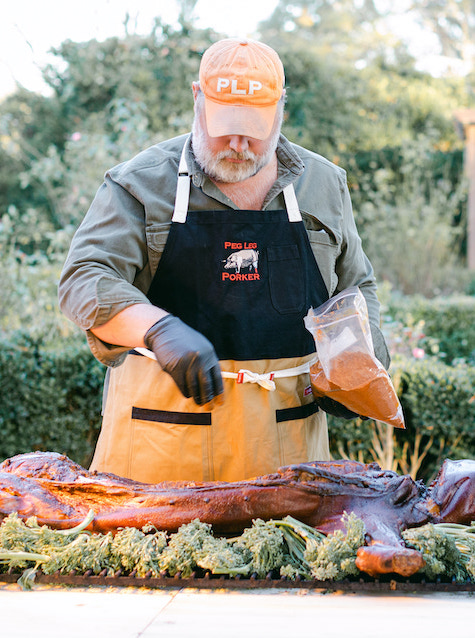 Saturday, November 20, 2021:
6:30 p.m.
We're going whole hog (literally) for the signature event of Swine & Wine Weekend! Renowned Pitmaster Carey Bringle of Nashville's Peg Leg Porker prepares a whole pig from snout-to-tail. Elevated side dishes complement the barbeque while a salad and dessert complete this experience.
Guests enjoy wine pairings selected by the always entertaining Five Star International Sommelier Heath Porter of Heathen Wine Tours, all set against the backdrop of the iconic Manor House Ruins for this open-air, covered event.
Live music, games and flames from Sea Island Forge fire kettles create a fun and social ambiance for this special Supper Club event.
Nicolas Lebas | Barnsley Resort
Open +
Executive Chef, Barnsley Resort
Originally from Marseilles, France, Chef Lebas leads the culinary team at Barnsley Resort. With almost two decades of culinary experience in both world-class resorts and upscale restaurants across the globe, Chef Lebas has a rooted passion for working with local farmers and fresh ingredients.
Carey Bringle | Peg Leg Porker
Open +
Pitmaster & Founder, Peg Leg Porker
Nashville native, Pitmaster Carey Bringle, has been competing in barbecue contests for  more than 25 years, and he has the blue ribbons to prove it. With a deep southern  background built around family values and valuing a good meal, Bringle founded Peg  Leg Porker in 2013. Peg Leg Porker is named after Bringle himself and his greatest win,  a cancer battle that he triumphed at the age of 17. With his win, he lost his leg, which  led him to create a new name and only added more fire to his passion for success.  Upon opening its doors in the heart of Nashville, Peg Leg Porker was quickly named  one of the hottest BBQ Joints in the country by media outlet after media outlet  including Food Network, The Travel Channel, BBC, Southern Living Magazine, Texas  Monthly, GQ, Garden and Gun Magazine and many more. Peg Leg Porker is known for  its juicy, smoked to perfection pork ribs drenched with a spicy dry rub *after* being cooked. Its homemade yet playful sides like Kool-Aid Pickles and Pork Rind Nachos all things Peg Leg feel and taste like home. 
Heath Porter | Heathen Wine Tours
Open +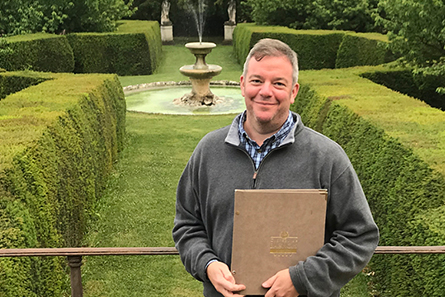 President, Heathen Wine Tours
Ironically, Heath Porter grew up in a dry county in North Alabama, under a roof where alcohol was not allowed. He started his food and beverage career at the ripe age of 15, washing dishes at a truck stop. After high school he moved to Hawaii at age 18, quickly fell in love with the whole concept of food and wine and was the winner of the Pacific region of the best young sommelier competition and finalist in the 2004 National Chaine des Rotisseurs young sommelier competition. He worked as a wine steward in Honolulu then rose to general manager and wine director at the W Hotel Honolulu. In 2006, Heath built Sea Island Resorts' wine collection as the lone sommelier for the Cloister. He also oversaw the blending of Sea Island's five private-label wines. From 2007 -2010 Heath was the only Director of Wine in the world to hold 20 stars and diamonds in the same year, as Sea Island garnered all these accolades with him in the lead. From there, his career led him to the prestigious Greenbrier Resort as Director of Wines, then on to Miami to open the award-winning Uvaggio wine bar and then the highly regarded No Name Chinese restaurant in South Miami. In 2015, Heath led 10 guests on a Santa Barbara Wine Tour, launching itineraries to international destinations including Chile, Slovenia, Champagne, Umbria, Tuscany and U.S. winemaking regions including Oregon, Willamette Valley and Sonoma.Heath has achieved many accolades in his profession and in 2009 passed the third level of testing administered by the Court of Master sommeliers. Heath is a self-taught food and beverage professional and credits the fact that he grew up in a dry county surrounded by Southern Baptists as the reason he drinks for a living.
Featured Partner | Sea Island Forge
Open +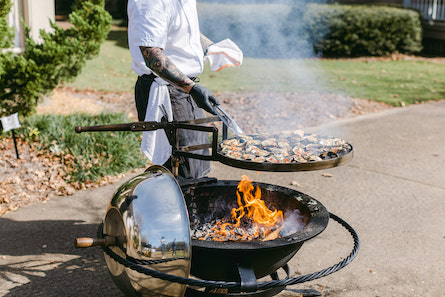 Featured Partner: Sea Island Forge
With respective backgrounds in construction, custom furniture, photography and art, Steve and Sandy Schoettle envisioned a business that combined their artistic talents, business savvy and creativity with their passion for entertaining and travel.  Today, the Schoettles and their talented team of artisans are building just that – a line of masterfully crafted legacy pieces that focus on bringing together family and friends. Outdoor gatherings around a roaring fire and simple, meaningful traditions are the cornerstone of the Sea Island Forge lifestyle.