Recreation
Pristine Wilderness

Your North Georgia Adventure Beckons

Set in 3000-acres of pristine wilderness, here you'll find the freedom to have a true North Georgia experience. Watch the morning sun light up the surrounding foothills while on horseback, hike through the woodlands, bike the nature trails or take a slow, relaxing boat ride on the lake. With an array of activities for nature lovers, history buffs, shooting enthusiasts, golfers and more, guests are free to pursue their passions in a multitude of ways or while away lazy days on the porch or by the pool.

Please visit our Calendar of Events to see more activities, workshops, events and programs planned at our North Georgia resort.

We highly recommend calling to make your activity reservations before your arrival to ensure you have the times and selection you prefer to maximize your stay with us. For more information, please call 770.773.7480.
Manor House Ruins & Museum
Close -
The Manor House Ruins, called Woodlands, are the remnants of the original 19th century Italianate villa built by Godfrey Barnsley for his wife Julia. From the first approach on Manor House Lane, a classic boxwood parterre garden leading up to the once grand manor home greets guests. The Barnsley Museum, located within the original kitchen wing of the home, features an extensive display of Barnsley Family belongings that bring their colorful story to life, along with a display of Civil War era artifacts.
Ruins and Museum Hours
Daily | 9 am - 5 pm
Self-Guided Tours
Complimentary to guests staying at Barnsley Resort
Adults $10
Senior Citizens $8
Children and Students $5
Holiday Garden Fees
(11/28/19 – 1/1/20)
$15 Adults
$10 Senior Citizens & Students
Complimentary for children under 12 with the donation of a new toy for Toys for Tots
Complimentary for Overnight Resort Guests and Members
For self-guided tours call 770.773.2457.
Please check in to the Outpost General Store
Our most popular activity, guests love to explore the wilds of Barnsley Resort's 3,000 acres on horseback. From a guided wilderness ride, a romantic ride complete with a picnic, to a lesson in the corral, our experienced trail guides welcome riders of all ages and abilities. Private rides and riding instruction are also available.
Guided Horseback Rides

A relaxing way to explore the natural surroundings of Barnsley Resort, led by one of our qualified trail guides. Suitable for all levels of experience for guests age 11 and over.

90-minute experience - $95 per person

Paired with other guests for a group ride. For ages 11 and up, weight restrictions apply.

History on Horseback

Explore the resort's historic past from the back of your horse. For ages 11 and up, weight restrictions apply.

90-minute experience - $95 per person

Ride times vary by season

Picnic lunches may be added to any ride

Children's Corral Rides

Younger cowboys and cowgirls learn to ride within the safety of our barnyard corral, guided by one of our trail guides. Available for guests age 3 - 10.

45 minutes - $50 per child

Horse Painting

This wonderful introduction to horsemanship, allows younger children to gently apply non-toxic paints to a white mare. Available for guests age 3 - 10.

45 minutes - $40 per child

Outpost General Store
Reservations required and recommended prior to arrival. Please call 770.773.2457.
High Adventure UTV Trail Riding Experience
Open +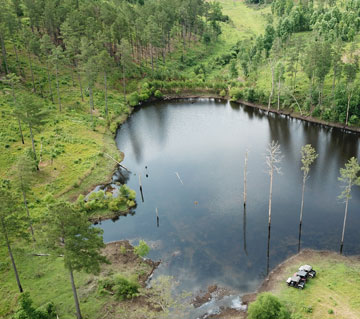 $325 per vehicle
Two-hour trail ride
Up to 4 guests per vehicle; 12 guests maximum
The High Adventure UTV Trail Riding Experience allows guests to travel through 15 miles of Appalachian Mountain foothills across 3,000 acres at the Beretta Shooting Grounds by High Adventure Company at Barnsley Resort. A qualified wilderness guide leads guests on state-of-the-art Yamaha utility vehicles (UTV) through some of the most pristine wildlife habitat in the region. The intensely managed upland habitat has encouraged an array of wildlife to call the property home. Rolling hills meet open meadows with expansive overlooks offering breath-taking views. Trail options provide excitement for thrill seekers, traversing over steep hills, ruts, and mud, or offer a relaxing cruise along smooth paths winding through the property. The High Adventure UTV Trail Riding Experience is the best way to see Georgia's natural beauty. Guests should definitely bring cameras to commemorate the experience, with scheduled stops taking advantage of prime North Georgia views.
Minimum age to drive is 16 years of age with a valid driver's license. Advanced terrain may require a driver 18 years or older.
Riders meet at the Beretta Shooting Grounds at their scheduled time
Resort casual outdoor attire is recommended. Closed toe shoe or boots required. (Be prepared to get muddy!)
A mandatory safety briefing and lesson for all participants takes place immediately before the ride. Helmets and eye protection are provided and required for drivers and passengers.
Price includes refreshments and excludes 7% sales tax
Located below the historic ruins, our younger guests delight in fun animal encounters with miniature horses, donkeys, goats at our new Barnsley Barnyard. Interactive experiences including feedings are also available.
Open daily | 8:30am - 4:30pm
Complimentary for resort guests and members and included with Manor House Ruins and museum admission.
Hiking & Guided Walks
Barnsley Resort's rolling landscape is ideal to explore on foot or by bike. If strolling or cruising is your speed, multiple trails wind along peaceful ponds, over wooden bridges and walkways, and even along the golf course.
Biking
For more heart-pumping action, tackle one of several trails for mountain bikes or the avid hiker. Our Outpost General Store offers trail maps and can assist with renting resort cruisers or guests are welcome to bring personal mountain bikes for trail use.
Bicycle Rentals
Up to 2 hours - $25 (complimentary for guests)
Half-day (4 hours) - $40
Full-day (8 hours) - $60
Activities on the Water
Open +
A picturesque 10-acre lake on property is a peaceful setting for an afternoon with the family at the fishing hole in search of the big one in a our well-stocked pond or exploring on a kayak or canoe. Complimentary fishing poles provided to guests for catch and release fishing.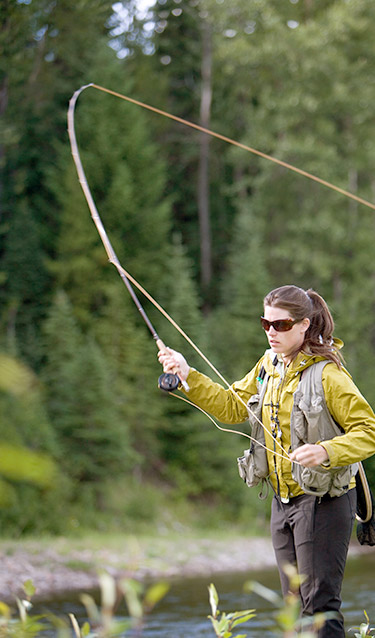 Learn the Art of Fly Fishing
Our resort village grounds have several stocked ponds to practice angling with one of our knowledgeable instructors, for experienced fly fishing enthusiasts or a novice wanting to learn the skills of tying a lure and casting a line. Expert guides from Cohutta Fishing Company in Cartersville, Georgia also offer fly fishing instruction and guide trips along North Georgia's natural waterways.
Fly Casting Lessons

Learn the art of fly casting with a knowledgeable instructor at Barnsley Resort. Numerous ponds throughout the resort offer an opportunity to test your skills.

Per Hour Lessons

• Private - $85
• Semi-Private (2-4 people) - $50 per person

Call the Outpost General Store at 770.773.2457 to reserve a sporting activity

Intro to Fly Fishing

2 Hour Lessons

• Private - $150
• Semi-Private (2+ people) - $100 per person

Call the Outpost General Store at 770.773.2457 to reserve a sporting activity
Popular with guests of all ages, a nine-hole disc golf course meanders through our historic gardens and meadows, offering a fun and active way to enjoy the grounds.
$20 per person.
While we do not offer tennis courts at the resort, we highly recommend the Rome Tennis Center – the nation's largest hard court facility. The 60-court Rome Tennis Center at Berry College, located on a-30 acre site, is comprised of USTA standard, asphalt tennis courts and includes six NCAA regulation courts, three center courts for tournament and collegiate play, and one exhibition court. All courts have lighting and access to shade structures.
Barnsley Resort
Activities
What are you going to do today? Choose from a wide range of activities.