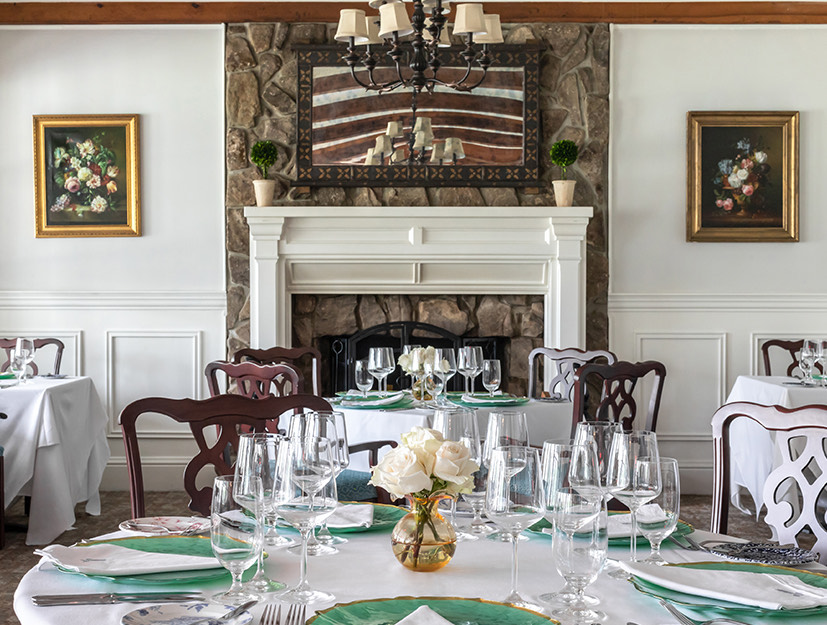 Southern Dining, Redefined Rice House
Restaurant at Barnsley Resort
August 22, 2023
Garden-to-table is a way of life at Barnsley Resort, the idyllic, award-winning 3,000-acre destination steeped in history and outdoor adventure just a short drive from north Georgia landmarks in Cartersville and Rome.

While the resort's close connection with nature is infused throughout the property's three culinary experiences, this philosophy is perfected into an art form in the Rice House restaurant.
Upon arrival, diners are welcomed into the 19th century farmhouse – now converted into an elegant yet relaxed setting for dinner on weekends. After savoring a signature cocktail in the lounge while admiring a dramatic gallery wall of collected art, guests enter the dining room, where hem-stitched linen napkins, Vietri bud vases, and glass chargers set the mood – and table – for the experience to follow. In the distance, dramatic views of the landmark Manor House Ruins of Godfrey Barnsley's former Woodlands estate complement the menus created by Executive Chef Javier Cuesta.

While Chef Cuesta oversees all menus on the property, he finds particular joy in bringing the Rice House experience to life. Here, the Spanish-born chef seamlessly infuses his classical French techniques and training with inspiration found from treasured Southern methods, local farmers, and the resort's on-site gardens. Working alongside a talented team of culinarians (who hail from as near as Rome to as far as Indonesia), Chef Cuesta and his team thoughtfully design menus that intentionally tell a story of the Barnsley's location and place.

Before preparing the evening's dishes, the culinary team cultivates seasonal ingredients in the gardens at the farm to incorporate them into the menus. To add another layer of menu inspiration, Chef Cuesta and team studied the global influences experienced by Godfrey Barnsley in the 19th century to weave international flavors into legacy Southern dishes, such as fried flounder and country captain. Okra is presented in the more traditional Indian pakoras presentation, with a crispy batter infused with spices, including coriander, cinnamon, and cardamom.

In addition to a memorable dinner experience, Barnsley Resort's reputation as a culinary destination is on the rise thanks to featured events and gatherings within one of two private dining rooms.
FEATURED EVENT: RICE HOUSE GUEST CHEF SERIES WITH GÜNTER SEEGER
Legendary chef and James Beard award winner Günter Seeger creates an exceptional culinary weekend to celebrate the harvest season. From featured menus in the Rice House to an exclusive lunch at the farm, make plans now to visit for a special culinary weekend.

September 28 & 29, 2023
The Rice House is open for dinner on Friday and Saturday evenings. Reservations are requested by calling 770.773.7480, ext. 1. While staying overnight offers a complete resort experience, a room reservation is not required to dine in the Rice House.