Recreation
Recreation

Your North Georgia Adventure Beckons

Set in 3000-acres of pristine wilderness, here you'll find the freedom to have a true North Georgia experience. Watch the morning sun light up the surrounding foothills while on horseback, hike through the woodlands, bike the nature trails or take a slow, relaxing boat ride on the lake. With an array of activities for nature lovers, history buffs, shooting enthusiasts, golfers and more, guests are free to pursue their passions in a multitude of ways or while away lazy days on the porch or by the pool.

For more information, call (770) 773-7480.
Barnsley Resort
Activities
What are you going to do today? Choose from the wide range of activities below.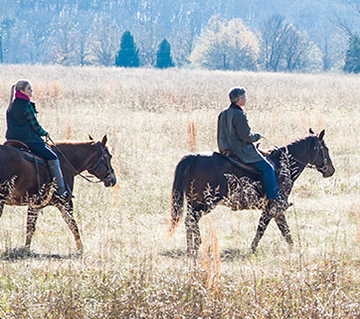 Our most popular activity, guests love to explore the wilds of Barnsley Resort's 3,000 acres on horseback. From a guided wilderness ride, a romantic ride complete with a picnic, to a lesson in the corral, our experienced trail guides welcome riders of all ages and abilities. Private rides and riding instruction are also available.
Guided Wilderness Rides

A relaxing way to explore the natural surroundings of Barnsley Resort, led by one of our qualified trail guides. Suitable for all levels of experience for guests age 11 and over.

One-hour guided ride - $65 per person
Two-hour guided ride - $120 per person

Introduction to Horsemanship

This hands-on introduction to horses, takes guests through the basics of grooming, tacking, leading, communication and riding in the ring. Available for guests age 7 and over.

One-hour session - $55 per person

Children's Corral Rides

Younger cowboys and cowgirls learn to ride within the safety of our barnyard corral, guided by one of our trail guides. Available for guests age 3 - 10.

30 minutes - $45 per child

Horse Painting (Seasonal)

This wonderful introduction to horsemanship, allows younger children to gently apply non-toxic paints to a white mare. Available for guests age 3 - 10.

30 minutes - $35 per person

Call SpringBank Sporting Club | 770.773.2457
For reservations, call (770) 773-2457.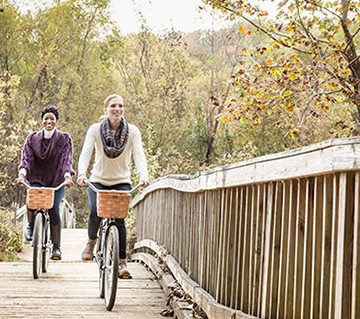 Hiking
Barnsley Resort's rolling landscape is ideal to explore on foot or by bike. If strolling or cruising is your speed, multiple trails wind along peaceful ponds, over wooden bridges and walkways, and even along the golf course.
Biking
For more heart pumping action, tackle one of several trails for mountain bikes or the avid hiker. Our Outpost General Store offers trail maps and can assist with renting resort cruisers or guests are welcome to bring personal mountain bikes for trail use.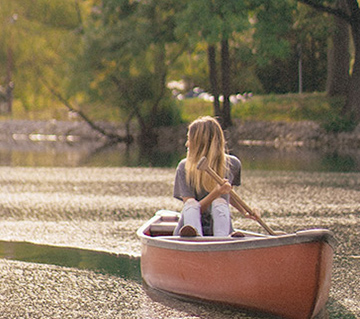 A picturesque 10-acre lake on property is a peaceful setting for an afternoon with the family at the fishing hole in search of the big one in a our well-stocked pond or exploring on a kayak or canoe. Complimentary fishing poles provided to guests for catch and release fishing.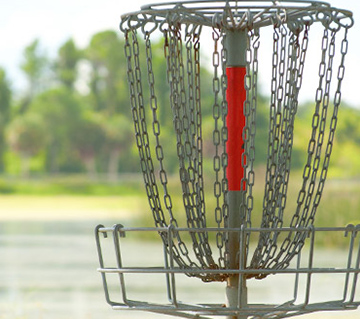 Popular with guests of all ages, a nine-hole disc golf course meanders through our historic gardens and meadows, offering a fun and active way to enjoy the grounds.
Disc Golf is complimentary for overnight resort guests.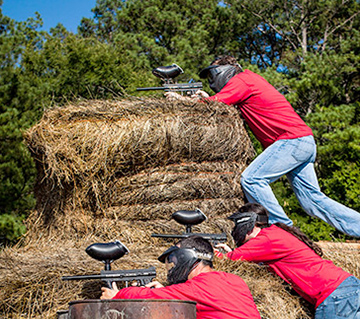 Its game on at Wolf Cave Mountain, where you can gather your teams and challenge each other to paintball in the cover of woods or in an open field, for two different game experiences. Available for guests age 10 and over. A minimum of four players and a maximum of 30 players is required.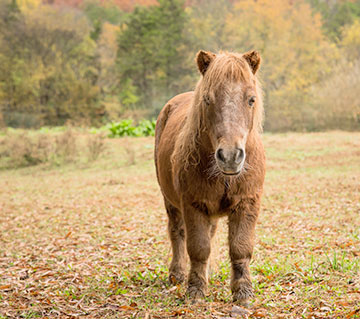 Located below the historic ruins, our younger guests delight in fun animal encounters with miniature horses, donkeys, goats at our new Barnsley Barnyard. Interactive experiences including feedings or pony carousel rides are also available.
Open daily | 8:30am - 4:30pm
Access to Barnsley Barnyard included with Ruins and Museum admission.
Manor House Ruins & Museum
Open +
The Manor House Ruins, called Woodlands, are the remnants of the original 19th century Italianate villa built by Godfrey Barnsley for his wife Julia. From the first approach on Manor House Lane, a classic boxwood parterre garden leading up to the once grand manor home greets guests. The Barnsley Museum, located within the original kitchen wing of the home, features an extensive display of Barnsley Family belongings that bring their colorful story to life, along with a display of Civil War era artifacts.
Ruins and Museum Hours
Daily | 9 am - 5 pm
Self-Guided Tours
Complimentary to guests staying at Barnsley Resort
Adults $10
Senior Citizens $8
Children and Students $5
For self-guided tours call 770.773.2457